Lisa Mason competing at the Sydney 2000 Olympics


Lisa Mason with her 2013 English Vault Champion Gold
Some of you are already asking me if I am considering coming back to gymnastics again. Well, maybe it will take a while to convince me: Lisa Mason has just come around....
at age thirty one

.
Lisa was a team member at the Olympic Games in Sydney, 2000, and retired at a similar stage in her career to me, upon completion of the event.
Like myself, and many teenage gymnasts, the concept of a 'normal' life was appealing to Lisa. After her absolute dedication to gymnastics had paid off, she needed a break from it all.
She had achieved all of her goals- where was there to go next? She was satisfied and proud with having mastered the sport, competing in the European Championships, the World Championships, and being part of the first full team to qualify for the Olympic Games. She could 'go out on a high' as they say. Her thoughts were almost identical to my own reasons for retiring.
But last year, the hype and excitement surrounding the home Olympics inspired Lisa to return to the sport that she had excelled in over a decade ago. Her interest in making a comeback had been growing for a while, and the timings of the Olympics meant it was possible for Lisa to begin training in time to perform in an Olympic display prior to the actual London competition rounds, as an example of Floor work. A few other gymnasts also did this, such as Danusia Francis who showcased Beam work.
Her first competition back was the 2013 English Championships where she competed on the Beam and Vault. "I was so nervous" she recalled; too nervous even to let her daughter- Yalarna Elena- watch from the audience. Despite her worries about being back in front of the judges she did incredibly well.
A
fter 13 years without competing once, she was crowned English Vault Champion. Impressive.
She was certainly the only gymnast there with a daughter of her own. Her situation is unique in the history of British gymnastics. Having to care for her daughter every day does not hinder her training though, as might be suspected. She describes Yalarna as her inspiration to carry on when things are tough.
Lisa with her daughter Yalarna
"
I just came [to the English Championships] for a trial competition before the British [Championships] so I'm over the moon [with my result]" Lisa told to the BBC, who have latched on to her eyebrow-raising accomplishment and made a big deal of her success on their website as well as on the televised news. "
Thirteen years out and to come away with a title already - I'm really really pleased
" she said, and deservedly so. But this is just the beginning for Lisa Mason.
Many people are now very keen to see how Lisa progresses. Making a comeback like Lisa's has never been done here before. Lisa welcomed the attention from the cameras particularly because she is looking to acquire some sort of funding to help her, but on the other hand, the attention also creates a lot of pressure for her to win medals. "
I mean business. I'm not doing it for a laugh," Lisa stated, but there is still a long way for Lisa to go if she is aiming for greater success.
Lisa competes on the Vault (At the British Championships)
I don't wish to be a gloomy dampener of spirits to those championing her after her initial triumph, but it must be noted that in order to win a Vault Final you must complete two different Vaults, and very few bothered to do this when she won at the English Championships. Lisa did not compete against any gymnasts on the British national team for the title, as none of them opted to perform 2 Vaults. Her Vaults, although performed beautifully, were of low difficulty and when she is matched one for one against competitors from our Great Britain squad, the harsh truth is that at the moment, Lisa does not compare.
She may have won the English Vault title, but this does not mean she is necessarily the best in England at Vaulting (... yet). In fact, if the result were judged on a single Vault alone at the English Championships, Jocelyn Hunt would have won, with the score 14.100. Lisa would have finished in 9th equal position, shared with Katy Bramley. At the British Championships she finished 6th in the Vault final, and a fall on Beam kept her out of that final.
"I'm not deluded" quoted Lisa to me after the British Championships, agreeing there is more progress to be made if she is to make her goal
- the 2014 Commonwealth team
. She is not anticipating that she will suddenly become a national star after years of no training, or a world champion. She's focused and realistic, and knows what she must do to make it to her target of the Commonwealth Games. It will require a lot more hard work, but that said, the progress she has made so far in such a short amount of time is very encouraging.
Given more time, the sky's the limit for what Lisa could achieve. Many gymnasts are unable to perform two different Vaults at all. Plus, returning to competition

on an elevated podium at the British Championships, with the extra pressure of expectation from her past results, must have been a terrifying experience. Conquering competition nerves is hard regardless, without that added difficulty! And at the English Championships she won fair and square; there's no opportunity to beat those who don't enter.
What's more is that Lisa is yet to compete on her favourite piece of apparatus: the Floor. She is hoping to exhibit her Floor routine at the British Teams Championships in May, having held back on this apparatus so far because she does 'not want to walk before [she] can run'. If she shines on the Floor, improves her Beam,
and combines
that with her plans to upgrade her Vaults whilst keeping her execution clean, she can definitely make those 2014 Games.
The most elite British gymnastics squads we have had, have not been known for their wealth of Vaulting talent. As a nation I would suggest that we currently compete best on the Bars, which leaves more space in the [commonwealth] team for other apparatus workers like Lisa, especially Vault workers with a chance of making a final. Only seven gymnasts even tried entering the Vault competition in last year's British Championships, meaning all qualified, with a gap in the usually-eight-gymnast Final.
Our lack of multi- vaulting gymnasts does not hinder Britain's World rankings though, because at International Championships, each gymnast on the team need only compete one Vault. And all of our squad have top quality singular Vaults.
Personally, there are two main reasons why I want Lisa to succeed:
1. She is such a lovely person. Sometime sincere and wise but chilled and funny too. Lisa joked at The English "My leotard is older than some of the gymnasts here!" Follow her on twitter and you will see her personality shine - @
lisamason1982
. You really can't help yourself from wanting her to do well on this point alone.
2. Secondly, it would be great if she could prove that her age is not 'too old for gymnastics' to skeptics who may suggest that a comeback past thirty years old is 'too late'. True, I have been quoted before saying I was 'getting old' for gymnastics at 18, but I have since reconsidered my view-
gymnastics is changing.
Beth Tweddle just won her first Olympic medal at age
27
. With a careful personalised training regime it is possible to continue. If
Oksana Chusovitina
can do it at age
37,
why can't Lisa Mason at only 31? True, Oksana didn't have such a long break from training to have her son, but she is still going and that is (arguably) harder.
Oksana is a six time Olympian
and international Champion and inspiration.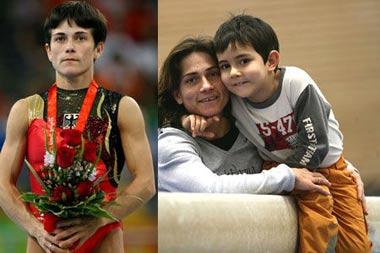 Oksana Chusovitina as a gymnast... and mum.
Above all, we all have to commend Lisa for stepping back into the limelight as a role model for adults who lead a fully active and healthy lifestyle, however well she does in the competition hall. What an inspiration for her daughter, as well as all the rest of us!

(Maybe I will make a comeback.)

You can remain in top physical condition (not just occasional jogging or the odd game of neighbourhood football) as an adult, and as a parent. And Lisa displays such good sportsmanship and wisdom in her attitude to it all too.
If you want to read more about Lisa, see the links below. She has gone from Olympic gymnast, to stunt woman, to mum, to incredible comeback gymnast and the next immediate step for Lisa is going to be the
Professional Gymnastics Challenge in America! I can't wait to see what the long term future holds for her.
- Jenni x
MORE-
Gymnast Lisa Mason wins in first competition for 12 years
Lisa Mason battles competitive gymnastics nerves on her return
I have also pasted some relevant tweets here for your interest:
Daley Thompson
Just watched the news and Lisa mason won the vault at the English champs. Her 1st comp in 12 years. Awesome. Way to go Lisa
#
agejustanumber
Retweeted by LISA MASON Official
Gymnova UK
Lisa Mason admits she still has plenty of work to do if she is to make it to Glasgow for next year's Commonwealth...
http://
fb.me/1yygsgUqt
Retweeted by LISA MASON Official
Nick Hope
Lisa Mason says "I need to walk before I can run," after her first GB Champs in 13 years. "I've achieved what I wanted by reaching a final."
Retweeted by LISA MASON Official
C
onfessionsOfAGymFan
Interview with the fabulous
@lisamason1982
talking about returning to gymnastics after 13 years of retirement:
http://
confessionsofagymfan.blogspot.co.uk/2013/03/back-i
n-business-interview-with-lisa.html
…
Flair Gymnastics
‏
"This is my last shot, but all I can do is keep trying keep pushing and doing my job - everything else is out of my hands. / It's been such a long time out, I have to re-train myself emotionally. Recent interview with Lisa Mason-
http://t.co/QoDXHoZn1v
Tasha Lund
Watching the Sydney Olympics, how much gymnastics has changed, but how
@lisamason1982
grace elegance and poise is still the created
#
amazing